Hot Interior Colors for 2014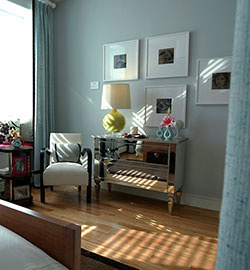 Grey - the color that connotes intellect - is one hue homeowners will be incorporating into their interiors next year. So says Debbie Zimmer, paint and color expert for the Paint Quality Institute, a leading source of information on interior color and design.
In her annual color forecast for 2014, Zimmer is supporting grey in a big way: "It's the hot new neutral, a sleek and sophisticated color option that adds refinement to almost any room.
"Walls that are painted grey are great backdrops for almost any style of décor, and grey is such a dignified color that it can elevate the appearance of even the most modest furnishings, " she says.
Beyond wall color, grey will embellish interiors in other ways next year -- in the form of grey wash on wood furniture, for example, and in fabric used for everything from seating to floor coverings. "We will even see grey's flashier cousin, silver, used as an important accent color," says Zimmer.
But grey won't be the only neutral to be popular in 2014. According to Zimmer, those seeking a change from more saturated color will be happy to learn that white and off-white are back in vogue. Manufacturers of interior paint will offer extensive palettes of ever-so-subtle tints comprised of 30, 40, and even 50 'whites' containing just a hint of color.
White is staging a strong comeback for a number of reasons, says Zimmer:
"As with grey, the ease of coordinating furnishings with a neutral hue like white is appealing to almost everyone," she says. "However, some will gravitate to white for more personal reasons having to do with a change of address: those who are downsizing will favor white or very light-colored walls to make their new, smaller interiors look more spacious; and for those who may soon put up a 'For Sale' sign, white is the wise paint color to apply before listing a home."
Design professionals and do-it-yourselfers in the mood for more colorful options will also have good choices next year. Blues and greens - in more tints and shades than ever before -- will again be crowd-pleasers, as they have been for a while.
"Another hot color in 2014 will be mustard yellow," says Zimmer. "Its influence is growing in both fashion and home furnishing fabrics. We also expect to see more use of the color on walls -- if not for entire rooms, then at least on accent walls."
If you're thinking about changing a color scheme in your home interior, Zimmer's insights into the tints and shades expected to be next year's "hot" choices can provide some valuable direction. But the color expert has one final piece of advice:
"In the end, color choice is a very personal decision, so whether you are thinking about doing some painting, or changing your décor, or both, stick with colors that you love. When it comes to your home, your opinion is the one that matters most."
To read more about these paint and primer products, visit the Paint Quality Institute blog at http://blog.paintquality.com.